Dump files can be used to diagnose problems with Zoom clients if they frequently hang or crash. If you need to generate and send a dump file to diagnose Zoom client problems on Windows, follow these steps:
Procedure
Right-click the Windows icon and click Task Manager.
Under Application, double-click Zoom Meeting. At least two items are displayed in the Zoom meeting.



Note :

The ones with low memory usage are the main Zoom window and

chat window

. Those with high memory usage are clients in a meeting.

 

Depending on which part of the Zoom client crashes frequently, right-click one of the Zoom meeting

items and click
Generate Dump File
If [ Dump file generation] ends successfully, Windows displays the file path.
Highlight the file path and press Ctrl + C to copy to the clipboard.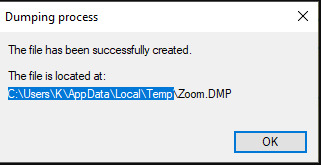 Open Windows Explorer and click the top file location bar.
Press Ctrl + V to paste the file path and press Enter.

Click the modified date column to display the new file first. The dump file (Zoom.DMP) is displayed at the top of the list.



Note :

Please compress the dump file before sending it.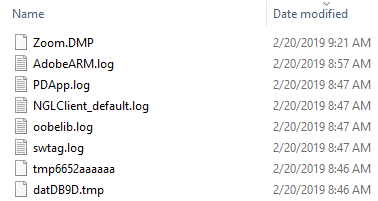 Open Task Manager again .
Right-click Zoom Meeting , and then click End Task .

Restart the Zoom client to generate a log file.
---
Related article
PC troubleshooting log
Gathering Windows System Information (MSINFO)
How to get Mac crash log
[Administrator] How to troubleshoot Zoom using the dashboard
Creating a spindump file on Mac
---
Frequently Asked Questions
Viewing and exporting logs. All phone logs in your account are available for viewing. Zoom's web portal can be accessed by logging in. In the navigation menu, you will find Logs under Phone System Management.
You can find all the small memory dump files under %SystemRoot%/Minidump. When hard disk space is limited, small memory dump files might be helpful.
Where can I find Zoom Logs?
From the Local Disk (C:) submenu, select "View"; check "hidden items"
You can learn more about Zoom by clicking "Users", "AppData" and then "Roaming" in the "Users" folder.
You will need to open a new folder in which to store ZoomRooms (like Zoom log) and then click "ZoomRooms".
---
Related Articles –