This post was most recently updated on March 16th, 2022
To install Zoom or Zoom Rooms on a Mac computer, you need to change the security and privacy settings to allow downloaded applications from certain developers.
Setting for Permission to install the Zoom App on macOS
Click the Apple icon in the upper left corner of the screen.
Then Select System Preferences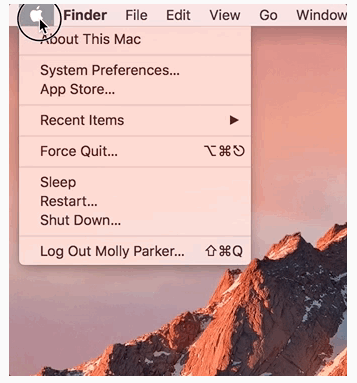 Then Click on the  Security and Privacy option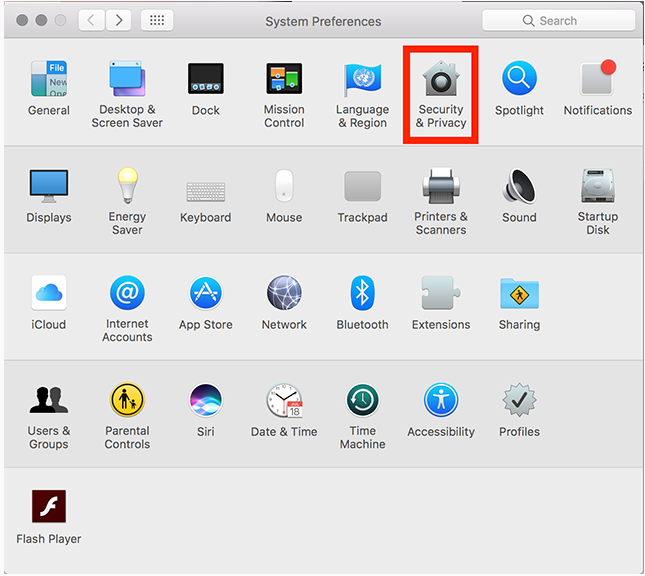 You can make changes by clicking on the lock icon at the bottom left.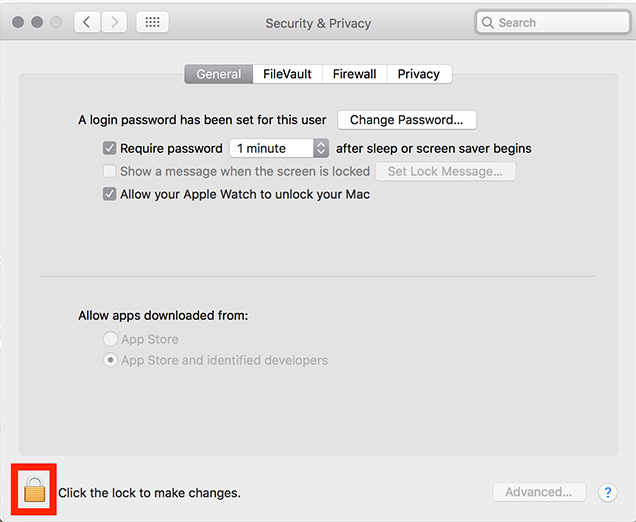 Enter the computer administrator's username and password.
Apps that allow downloading
Change the settings to allow apps downloaded from the following sources: App Store and identified developers for the App Store
Note: For Mac High Sierra (10.13.x), you must also click Allow.

Click the lock icon again to prevent further changes.
How to Install the Zoom application on macOS
1.   Please access Download Center .
2. Click Download next to Zoom Client for Meeting .
3.    Open the downloaded file. Usually, it is saved in the download folder.
4.    Follow the instructions to install the application on your computer click on continue Button.
5.  Select the location where you want to install.
Note – If you want to select for all users of your computer then select " install for all users of this computer".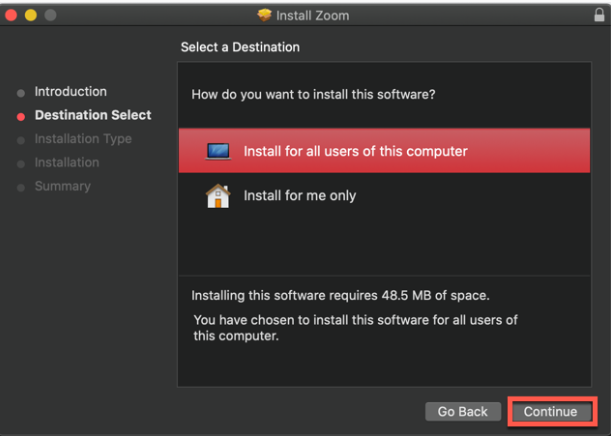 Note – If you want to install for only you as user then select " install for me only" option
6.  Now click on continue Button.
7.  If you want to change the location for the zoom installation then you can select by the click on "change install Location"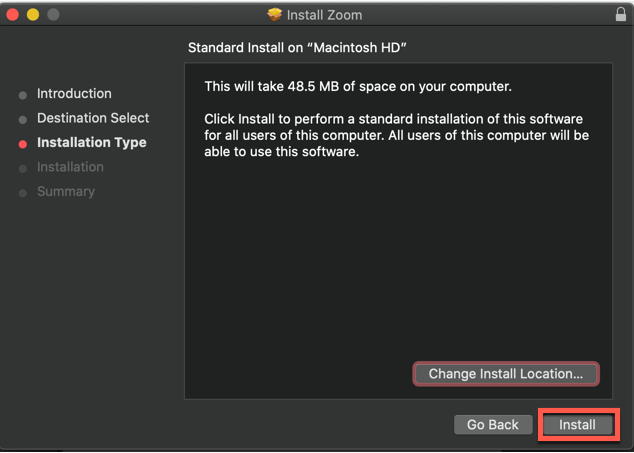 Now click on the install Button.
Permissions for the Zoom application in macOS
The Mac OS 10.14 Mojave and Mac OS 10.15 Catalina have increased their security and permissions, resulting in the Zoom desktop client requesting authorization to access the microphone, camera, and screen recording capabilities on Mac OS 10.15 Catalina.
The permissions are set within System Preferences of the device.
Related article
How to install the application (PC version)
Windows and Mac start
Where are the Mac apps?
What is the difference between Zoom Meeting and Zoom Rooms?
Using Zoom Client and Zoom Rooms on Mac OS 10.14 Mojave
Where is the Mac app?
Granting macOS permissions for the Zoom client
Getting started on Windows and macOS
Changing your Virtual Background image
Zoom Virtual Background system requirements
All Credits – Zoom.us