Saving In-Meeting Chat
In-zoom meeting chats can be saved automatically or manually on your computer or Zoom Cloud.
Requirements for saving in-meeting chats
Meeting Host, Co-Host, Participant, or Webinar Host, Co-Host, Panelist
Paid license for cloud storage to save chat on zoom cloud.
Manually save Zoom chat
The save destination is saved locally.
During a meeting, click Chat.

Select Details at the bottom of the chat window and click Save Chat.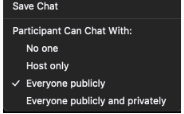 The chat is saved to a local recording location.
By default,  My Documents Zoom YYYY-MM-DD HH.MM.SS My Webinar (Meeting ID)
Automatically save chat
Go to profile settings .
To the right of Meeting (Basic) option, Here click on Edit Option
Save chat to Zoom cloud
It must be a paid account.
Click the [ Recording ] tab in My Meeting Settings.
Turn on Cloud recording and check " Save chat messages from meeting/webinar ".
In a meeting, to save chats, you need to start cloud recording.
Access chat data stored in the cloud
You can access meeting records in one of the following ways:
You will receive an email when your cloud record is ready. Click the link in the email to download or view the recording.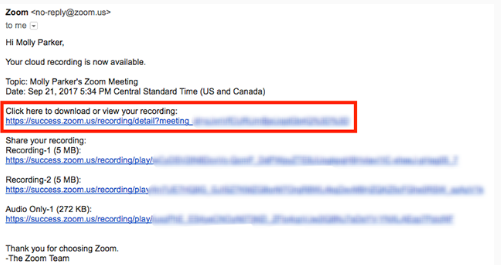 When the recording process is over, move to [ My Recordings ]. Click a topic.

Downloaded File will be saved as TXT file.
Default chat storage location (computer)
In-meeting chats are stored locally at the recording location.
By default, it is saved in the  document folder>  Zoom  >  meeting name and date and time
To view the recording path or change the default
Open the Zoom client on your computer and log in.
Click on Your Zoom profile image and then select the setting.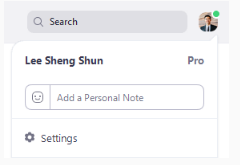 After it, You will get the recording path to save in local storage like –
The selected recording path is displayed. You can click the arrow to select a new file location.
Note: We do not recommend using a network or cloud drive. This causes file corruption if the connection is interrupted.
Related article
About the chat save destination during the meeting
Save chat during a meeting
[Owner] How to check chat history
Breakout room management
[Administrator] I want to limit the chat function.