This post was most recently updated on April 17th, 2022
This article will show you how to invite more people to your meetings, whether you want to invite others to an ongoing Zoom session, or you want to invite others to a meeting that is scheduled down the road.
In addition to this, you can invite participants through audio conferencing (requires the audio conferencing plan) or you can make an invitation through a room system (requires the Cloud Room Connector add-on).
Prerequisites
Zoom desktop client, mobile app, or web client
How to invite others to a meeting during a Zoom meeting
Join the Zoom desktop client by logging in with your Zoom account.
Join or start a meeting with your Zoom contacts.
From the meeting control menu, click Participants.
On the participant's panel, click Invite to start the meeting.
There are a variety of options you can choose from when inviting participants:
Invite others to a meeting by an Email
Choose Email from the drop-down menu.
Among the available options are: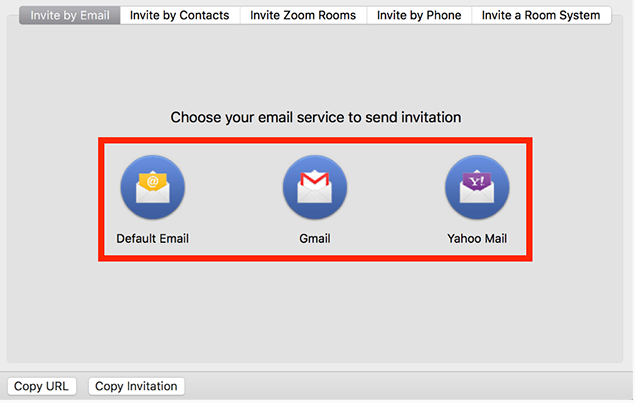 Selecting [ Default Mail ] opens the default mail application (Outlook, iCal, etc.).
If you select [ Gmail ] or [ Yahoo Mail ], your web browser will open and you will be prompted to log in to your Gmail or Yahoo account. If you are already logged in, a new email will be created automatically with the meeting information in the email body.
Invite others to a meeting by Contacts
To access your contacts, click the Contacts tab.
You can either select a contact from a list or search for one.
Once you've found the person you wish to invite, click on their name. Multiple contacts can be selected at one time. As soon as you have done so, their name(s) will appear in light blue and they will appear in the list at the very top of the window.
You can now invite them by clicking the Invite button.
Invite others to a meeting by URL or Invitation text
If you want to send instant meeting information to other participants, click Copy URL or Copy Invitation .
When you click [Copy URL], the participation link is copied, and participants can join the meeting simply by clicking the URL.
Clicking Copy Invitation copies the entire text of the invitation. Paste the copied invitation by selecting "Ctrl + V" key for PC, "command + V" key for Mac, or right-click "Paste".
How to invite others to a scheduled meeting
Desktop client
Sign in to the Zoom Desktop Client by using your email address and password.
Then, schedule a meeting.
Go to the Meetings tab of the Zoom Desktop Client.
Locate the meeting you wish to invite other participants to, and click the Copy Invitation button.

If you choose you want to send this information to someone else, you can cut and paste it into an email or wherever else you wish to send it.
Web portal
Log in to the Zoom web portal by entering your email address and password.
Once you are logged in, click the Meetings link in the navigation menu.
Then, choose the meeting you wish to attend.

There is an option to add it to your calendar right next to the Time.

In the event that you click on Google Calendar or Yahoo Calendar, an event will be automatically created and sent to your selected email service via the website you are visiting.
The .ics file generated by clicking on Outlook Calendar will be imported into your Outlook calendar once you click on it.


Manually copying meeting information can also be done using Copy Invitation.


The meeting invitation text will be displayed in a new window when you select Copy Invitation.
Select Copy Meeting Invitation.
This can be copied and sent via email or another method.

Related article
Invite others to a Zoom Rooms meeting
What you can do with the directory (contact) function
How to use channels (How to use group messaging)
Even if I click the URL in the invitation email, Javascript does not work in IE11 and I cannot activate it.
I want to change the Zoom display language to Japanese display
comment
Scheduling meetings
Where to find the meeting invitation text
Zoom how-to video tutorials
How do I host an instant meeting?
Changing your Virtual Background image
People Also Search For
zoom invite by whatsapp
how to send zoom meeting invite on whatsapp
how to schedule a zoom meeting and invite someone
how do i invite someone to a scheduled zoom meeting
how to set up a zoom meeting with friends
how to start a zoom meeting as host
zoom meeting invitation email template
zoom invite by phone
zoom invitation email template
how to send a zoom invite in outlook
zoom.us application
zoom meeting tutorial
how to create zoom meeting id
how to send zoom meeting invite on whatsapp
how to add contacts to zoom
step by step zoom instructions
how do i open a zoom meeting without password
how to set up zoom
schedule zoom meeting in different time zones
how to text a zoom invite from computer
zoom rsvp feature
how to create a group in zoom app
how to find zoom contacts
can i schedule a zoom meeting and not attend
zoom instructions for participants pdf
zoom instructions for dummies
zoom instructions for participants 2020
zoom user guide pdf
zoom rules for students pdf
zoom instructions for patients
can you join a zoom meeting early
not able to start a zoom meeting
zoom won t let me join
join simultaneous zoom meetings
start zoom app
cannot start meeting error 7 zoom
zoom ucdenver login
zoom university
how to join a zoom meeting
georgetown install zoom
install zoom windows
zoom georgetown university
how to reinstall zoom
uis zoom
how to announce a meeting
zoom invite by whatsapp
how to send zoom meeting invite on whatsapp
how to schedule a zoom meeting and invite someone
how do i invite someone to a scheduled zoom meeting
how to set up a zoom meeting with friends
how to start a zoom meeting as host
zoom meeting invitation email template
zoom invite by phone