Prerequisites
Zoom Desktop Client for Mac or Windows
Note :
  You can not share computer sounds while multiple screens are shared.
How to share audio when sharing screen
Click [ Share Computer Sound ] to share computer audio such as YouTube, Pandora, etc. during screen sharing .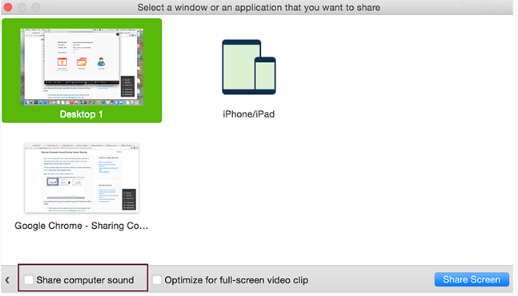 Screen sharing with computer sounds when connected to meeting voice over phone
Join the meeting through both the phone and the computer,
receive the audio through the phone, receive
the video / screen share through the computer
, enter the meeting ID and the participant ID and join the device to the user It applies.
When Sharing computer sounds is turned on, the
audio is channeled through both the phone device and the computer audio.
To stop sending voice
You can stop it by either of the following.
Click Stop Sharing at the top of the meeting screen
Mute the phone speaker or PC or MAC speaker
---
Related article
What is screen sharing?
Use the original sound
The idea of ​​sound and audio
I want to check the operation of audio equipment (before and during a meeting)
Share multiple screens with Zoom Rooms