As far as content sharing on H.323 devices is concerned, Zoom supports the H.239 ITU standard and BFCP in regards to sharing content on SIP devices. By doing so, you will be able to view both video and content, if you have a dual screen H.323 device or SIP device connected to the internet. With the instructions below, you can toggle H.239 and BFCP on and off, so that they are on by default.
How to enable dual screen mode (H.239 or BFCP)
To use this feature with the Cloud Room Connector, you will need to ensure that the H.239 or BFCP features have been enabled in your device settings.
Sending content from H.323 or BFCP endpoint
Using the H.323 or BFCP device, you can share content between your computer and the device (or other device).
Receiving content on H.323 or BFCP endpoint
Single-screen – A single screen will be used to display the content
Dual-screen – The default setting is to display the content and video on two screens at the same time. Dual screen can be disabled by following these steps:
In order to access the menu, press "1" via DTMF code.
In order to access more options, press the "0" key.
If you want to switch between H.239 and BFCP for dual-screen viewing, press the "1" button.
Note :
In order for your H.323 endpoint to receive dual screen content, it must be publicly accessible or configured so that it has 1:1 NAT capability. There may be some H323 devices that are behind NAT that are not compatible with H.239 over IP.
When you press the DTMF "1" key, the menu below will appear on your screen.
Pressing the DTMF "0" key will bring up the menu below.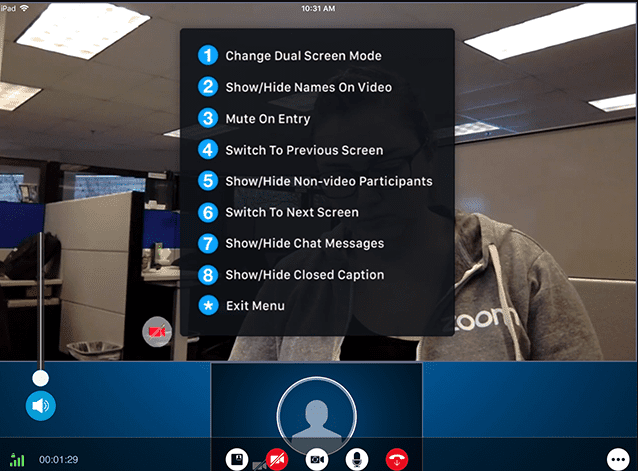 If you would like to know more about how to configure your network for CRC, please see Network Firewall Settings for CRC.