During live streaming to Facebook, YouTube, Workplace by Facebook, or a custom service, you can upload a logo or a custom image that will be displayed when the stream is directed to these services. If you click on the uploaded logo below, the Zoom logo will appear in the lower right corner of the live stream, instead of the uploaded logo; within this area, Zoom will display the words "Powered by Zoom".
For this feature to be enabled, please contact Zoom Support. Upon contacting support, it will take up to three business days for your request to be processed.
Prerequisites for adding a live streaming watermark
Accounts for Businesses, Enterprises and Schools
Approved Vanity URL
Can only be configured by an account owner or administrator
How to add a live streaming watermark
To access Zoom's web portal, you need to sign in.
To do so, select Advanced, then Branding from the navigation panel.
Select Meetings and Webinars from the dropdown menu.
From the Live Streaming Watermarks menu, select Live Streaming Watermarks.
You can add a logo by clicking on Change.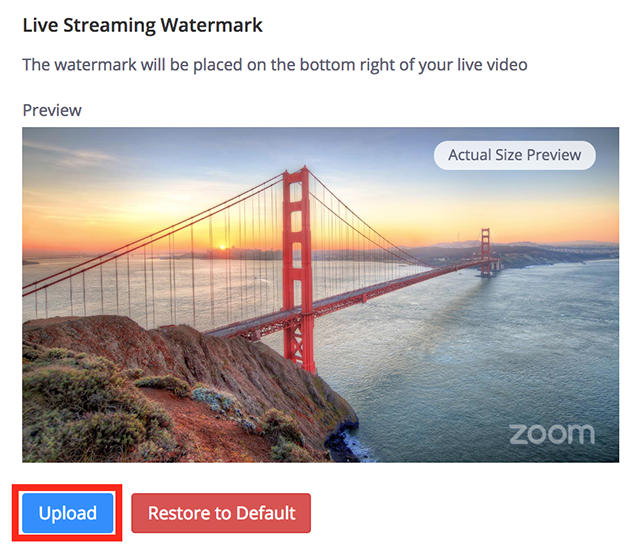 To add a logo you must follow the proper specifications:
JPG/JPEG or 24-bit PNG
Compatible with 720p video
Maximum resolution: 400×400 pixels