When a Zoom meeting is occurring and using the Zoom client on a MacBook Pro, the Touch Bar controls are available. While not in a Zoom meeting, these controls can be used to initiate a meeting or screen share, join a meeting, schedule a meeting, or join a meeting when Zoom Desktop is in focus and you are not in a meeting. In the meeting controls, you have the option of muting or unmuting, starting or stopping your video, starting or stopping your recording (if you have enabled it), sharing your computer screen, sharing your desktop, leaving/ending the meeting, and accessing Zoom settings.
Prerequisites for using the MacBook Pro Touch bar controls
Touch Bar on the MacBook Pro
For Mac users, the Zoom desktop client must be updated to version 4.1.23108.0402 or later
How to use the controls when with the Zoom desktop client?
The Zoom desktop client can be focused, but you do not need to be in a meeting, and so you can use the Touch Bar to do the following things:
Meetings can be started via video

Meetings without video can be started

Attend a meeting
Set up a meeting

Share your screen

You can access your Zoom settings here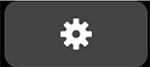 How to use the controls when in a Zoom meeting
Screen sharing when not needed


When sharing a screen

Using the microphone mute/unmute
You can start/stop your video

Recording can be started/stopped if enabled


Share the entire screen of your computer (start sharing your desktop) & end sharing



Before the meeting ends or you leave



If you are unable to access the Zoom settings