With panelist
You have access to all the features used in the meeting.
You can view and send videos, screen sharing, annotations and more.
Up to 100 panelists (including the host) can attend the webinar.
It is different from viewers who are only allowed to read.
You can unmute the audience.
Prerequisites
Purchase of a webinar plan where 100, 500, 1000, 3000, 5000 or 10000 people can participate
Scheduled Registration or No Registration Webinars
How to add a panelist to a webinar
Log in to My Webinar .
Click the webinar topic to which you want to add a panelist.

Select the " Edit " button for the " Panelist " item on the Invitations tab
Enter your name and email address .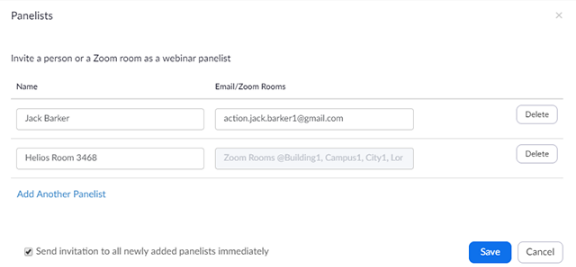 [ Add another panelist and select the button to add the two or more of the panelists.
[ Save Press], we like to send invitations to new panelists that you entered.
You can add up to 100 panelists.
You can remove or add panelists at any time before the webinar starts.
The invitation will be sent and you will be notified that you have invited as a panelist, unless [ Send invitation to panelist immediately ] is unchecked


.
The following invitations will be sent to the panelists.
The mail title is a panelist of "webinar name" .
Regular Webinar
When a webinar is held regularly
Users are panelists on all webinars with the same ID.
How to delete panelists

Select the [ Edit ] button for the " Panelist " item .
Click Delete to the right of the panelist's name .
Related article
Participate in the webinar (participants)
Import webinar registrants using CSV
Watch a 1-minute video of how to use the Zoom Meeting Webinar (Summary)
Webinar chat
Use meeting and webinar authentication profiles