[ My Recording When you click a video recording in the page, play in a new browser tab, including the downloading and sharing of control video will start.
You can set the playback range of the shared video to start and end at a specified time, and to delete unnecessary parts from the beginning and end.
Prerequisites
Zoom account with cloud recording enabled
procedure
Log in to your Zoom account on the web and click [ My Recording ].
Click the meeting topic for the session that you want to play, and then click the video thumbnail.
A new browser tab opens with playback of the recording and the available controls.
Click Set playback range .
Use the sliders to specify the Start Time and End Time of the recording, and click Save .

Click [ Share ].
Shared links provide access to recordings that play only a specified time range.
If this option is enabled,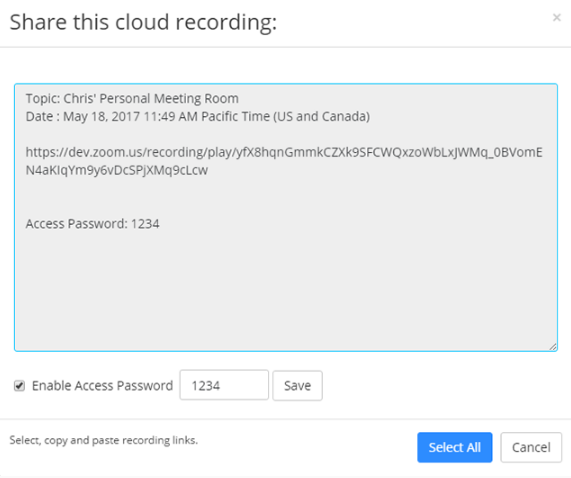 meeting topics and times, and links to recordings are displayed by default.
You can set your own password by turning on password protection .
The set password is described in the record link information.
[
Copy
to
clipboard
] allows you to paste and share easily.
---
Related article
Cloud record
Where is the recorded data saved?
Recording layout (video layout of recorded meeting)
Record on iOS / Android
Which is better recording quality, cloud recording or local recording?