Zoom allows you to schedule regular webinars on specific dates.
Webinars can be scheduled to occur daily, weekly or monthly.
Requirements for Scheduling a Regular Webinar
Webinar add-on purchased Pro users
(100, 500, 1000, 3000, 5000, 10000)
Schedule a regular webinar
Login with your Zoom account and go to the My Webinar tab.
Click the schedule webinar at the top of the page to display the schedule webinar page.
Enter a title for the webinar and enter information as required.
Select the date, time, duration, and time zone of the first webinar.
[ Regular webinars to enable the option.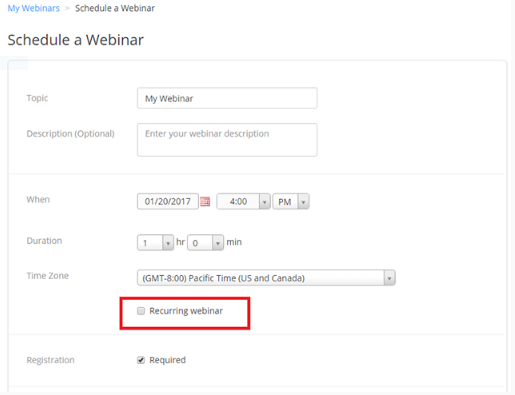 Select the Repeat option
Specify the last day if the scheduled event is daily, weekly, or monthly.
You can specify the date or number of times for the webinar.
Specifies if registration is required.
If you need to register and have a regular webinar, specify one of the following options:
Specify the Video, Audio, and Webinar options, and click Save. The Manage Webinar page displays the title of the webinar and an overview of the schedule.
Click Show  webinar page. Here you will see a list of Scheduled Items to see a list of all webinar times.
On this page, you can edit or delete individual events. You can also add a session.
Related article
Webinar branding
Import webinar registrants using CSV
On-demand webinar
Webinar rehearsal (practical session function)
Watch a 1-minute video of how to use the Zoom Meeting Webinar (Summary)