This post was most recently updated on July 28th, 2022
Setting Up Kaltura Integration
Note: As of today, Zoom Marketplace has added Kaltura to the list of integrations available. This can be done by using the Marketplace app while creating the integration.
Overview
After the end of your meeting, you will be able to upload your Zoom recordings to Kaltura automatically through the Kaltura integration with Zoom.
Prerequisites
It is possible to pay for a Zoom account
as well as a Kaltura account with administrative rights
to enable Cloud Recording
Setting up the integration between Kaltura and Zoom
The integration page can be accessed by logging into the Integration page.
Select Kaltura under Configure and follow the instructions.

Configure the Integration:

User Name: You can find the User Name in Kaltura, under the Settings menu (gear icon), in the My Profile section.
User ID: In Kaltura, you have the option to find it under My User Settings and Settings for My Account.

Partner ID: You can find this within Kaltura's settings and integration settings on the Integration tab.
Administrator Secret: You will find this information in Kaltura's Settings and Integration Settings section.

Enable upload recording:
You should enable the integration with Kaltura if you check this box. In the absence of this check, the integration will not work. If this box is unchecked, the integration will be temporarily suspended.
Allow users to edit Kaltura User ID in their Profile page:
With this, users can create their own Kaltura User ID that will be associated with their Zoom recordings on their Profile page in order to enable them to upload their recordings.
Stop Email Notification:
Users can check this box if they do not wish to receive Zoom notifications when the cloud recordings become available.
Category by Zoom Recording:
In order to automatically have all Zoom recordings added to Kaltura in a single category called Zoom recordings, you will need to check this box.

Configuring User IDs for individual users
Kaltura User IDs can be added in Zoom so recordings can be associated with the correct user in Kaltura so that the recordings are always associated with the correct individual. By default, all recordings will be associated with the Kaltura account of the administrator when no user IDs are added to Zoom.
Users can create a user ID on their profile page, accounts can be created by the admin by accessing the account's management page and configuring the user ID there, or it can be configured by using the Update a User REST API call.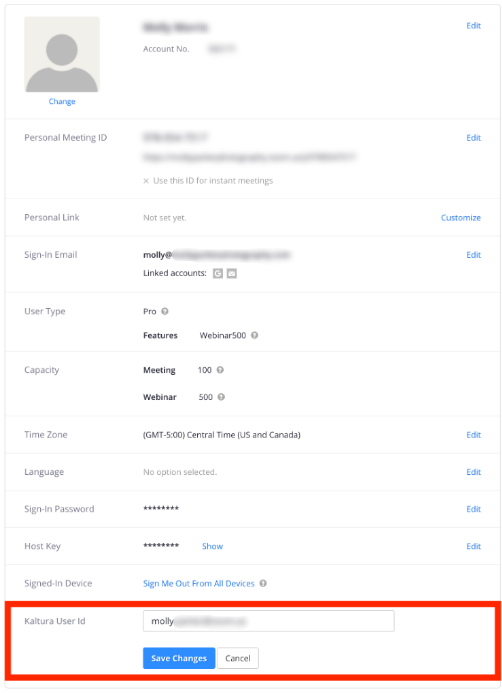 Viewing Recordings in Kaltura
Choose the Content > Bulk Upload Log menu option to view the status of a recording. There is a section here to show you who uploaded it, when it was uploaded, and its current status. It is important to note that the progress of your recording will depend on how large it is.

In Kaltura, you can view Zoom Recordings by selecting the Content > Entries option, and then ticking the box labelled Zoom Recordings.