Do you want to test a video in Zoom app for Meeting? You can test your camcorder with Zoom before and during the meeting to see if it works properly.
Test Method
Windows, Mac, Linux
How to test the video before the meeting
Log in to the Zoom client.
Click on your profile picture then setting.

A preview of the camera is displayed. You can select other cameras as needed.
Also, if the video is not in the correct position, you can rotate the screen every 90 ° to return to the correct position.
To test the video in a meeting
Click the arrow next to Video Start/Stop.
Select [ Video Settings ].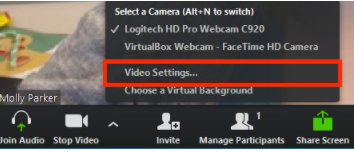 The video settings will open and you can change the camera or settings.
Video setting
[ Aspect Ratio ]: Select whether to share the camera in 16: 9 (widescreen) or original size.
[ Enable HD ]: Applies an aspect ratio of 16: 9 and shares HD video if the conditions are met.
[ Enable mirror effect ]: Invert camera video.
[ To enable hardware acceleration ]: If the CPU problem occurs when you use the Zoom, check this setting. Hardware acceleration uses hardware instead of Zoom software to encode and decode video.
[ To correct the appearance ]: Apply a blur effect to video.
[ Always Display participant names on their video ]: Always display the name of each participant in the lower left part of the video window.
[ When you participate in the meeting, to turn off the video ]: The camera is turned off by default at the time of participation meeting. You can turn it on after joining the meeting.
[ Hide Non-Video participants ]: Selecting this option will turn off the video window box of the participants without video or joined via PSTN. As these participants speak, their names appear at the top of the screen.
[ Spot my video when talking ]: If you are using active speaker video, show your video locally.
You can rotate the camera as needed .
iOS · Android
The Zoom mobile app lets you start an instant meeting and then test your video.
[ Tap on Start Meeting ].
On the video switching to, [ the beginning of the meeting and then tap].
The first time you join a Zoom meeting from this device, Zoom asks for permission to access the camera and microphone.
The video will be displayed.
If the meeting has already started,
To turn on the camera, tap Start Video on the screen.