If you have scheduled a meeting with the Zoom scheduler, a meeting ID will be generated.
When you invite using a calendar, the instructions are automatically pasted into your calendar invitation.
About meeting ID  :
You can start a scheduled meeting at any time.
Non-periodic meeting IDs
expire 30 days after the meeting is scheduled or starts.
Within 30 days, you can resume a meeting with the same meeting ID as many times as you like.
The regular meeting ID
expires 365 days after the meeting first begins.
Expired meeting IDs can be reused in subsequent meetings.
Reschedule meeting:
Mi If you need to reschedule the computing, to update the schedule of the calendar.
There is no need to update the meeting in the Zoom scheduler as it is synchronized to the Zoom scheduler.
Add or remove a participant invitation:
If you need to add participants, you can add them in the calendar.
If you need to delete a participant, you can delete the participant in the calendar.
There is no need to update the meeting in the Zoom scheduler.
Editing scheduled meetings in the scheduler:
Click [Meeting], [Now (planned)], and [Edit] in this order.
It can be used to update scheduled times, but it is not required.
Edit calendar invitations:
You can edit or add to the auto-generated invitation content in the calendar, as needed.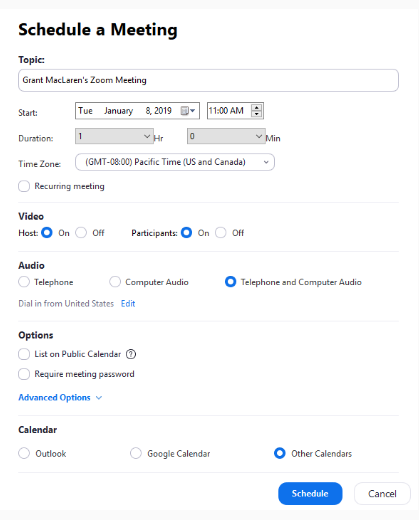 ---
Read it also –
---
Frequently Asked Questions
Zoom's web portal can be accessed by logging in. Select Account Management and then Billing from the navigation panel. Click Upgrade Account under Current Plans. You can upgrade your plan by clicking the Upgrade button in the box.
Select Meetings from the menu.You can copy the invitation for a meeting by selecting it and clicking the Copy Invitation button. This information will be copied and pasted into an email or wherever else you wish. In your calendar, click the Edit button to add meetings.
Is there a way to extend my Zoom meeting? Meeting duration can be set when you create a meeting. It will not automatically stop the session if your meeting runs over time. As long as you need, you can continue the meeting.
In the event that this change is made to the Zoom meeting, only the date and time of that instance will have changed as a result of this change. Zoom meeting links, passwords, or any other information that is required to access these recurring meetings will remain the same.
Zoom Meeting Links can be reused. After the meeting is over, the link to the immediate meeting will expire. Meeting IDs for non-recurring meetings expire 30 days after they are scheduled. The same meeting ID will remain active for another 30 days if you reactivate it within those 30 days.
---
Related articles