This post was most recently updated on July 28th, 2022
The FINRA and other regulatory compliance requirements can be satisfied by Zoom's Meeting and Webinar Archiving solution which allows account administrators to automate the processes of collecting and archiving data from meetings into 3rd party platforms of their choice, which allows them to satisfy FINRA and/or other financial compliance requirements. In the account administrator area, you will be able to set which data will be archived, what disclaimer will appear, and for which groups archiving will be enabled.
It is possible to archive the following types of data:
Audio and video conferencing in the meeting
including the use of whiteboards and shared content
During the meeting, there can be public or private chat sessions
which can either be closed captioned or live transcribed
according to the metadata associated with the webinar or meeting.
Setting up archiving for meetings and webinars requires a few prerequisites
Zoom Support has enabled archiving of your meetings for your account as part of its Meeting Archiving service
There is a third-party service available as a corresponding Market App that allows archiving by third parties
for the Zoom desktop client

Windows: 5.6.0 or higher
macOS: 5.6.0 or higher
Linux: 5.6.0 or higher

for the Zoom mobile app

Android: 5.6.0 or higher
iOS: 5.6.0 or higher

VDI Client: 3.3.2 or higher
for the Web Client
Zoom Rooms for Conference Room

PC: 5.7.0 or higher
macOS: 5.7.0 or higher

Zoom Rooms Controller

Android: 5.7.0 or higher
iOS: 5.7.0 or higher
Archiving notifications and their types
The participants in a meeting are informed that the meeting is going to be archived when the action is being taken. The indicators are divided into three different kinds, namely:
Tooltip for archiving meetings during meetings
meetings
meetings: Audio/video notifications are displayed once on a screen
with the option to archive the notification for in-meeting communications
Tooltip for archiving meetings in-meeting
If one or more artifacts are being archived (videos, audios, meeting chat transcripts, captions and transcripts), then the archiving badge will be displayed.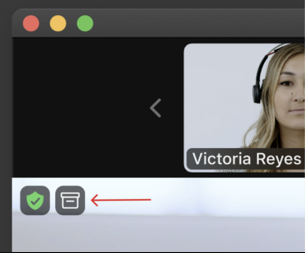 With a single click on the disclaimer icon, you are able to see what types of artifacts are being captured and archived for the particular meeting. The admin can also customize this setting to his or her liking.
Video and audio disclaimers appearing on screen during a meeting
Note:
There is a chance that only the meeting chat will be marked for archiving, then meeting joiners will not see the disclaimer regarding audio and video archiving when joining a meeting.
In meetings where the archiving system is already active or when a regulated user joins a meeting when an archive is already in progress, this message appears. Participants will need to consent to the archiving of their meeting data when they are prompted at the beginning of the meeting. Additionally, the participant will also be able to leave the meeting at any point during the meeting.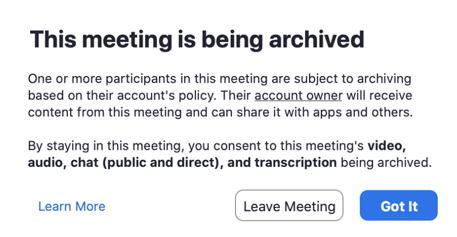 The username and password of the account administrator are not required to be the same. If the account administrator has chosen to activate a voice prompt, the user joining the meeting will receive a voice prompt announcing that the meeting is going to be archived.
Chat notification during a meeting
When messages from online in-meeting chat have been archiving for a meeting, users will be able to see them by clicking the Chat icon (if enabled) in the meeting.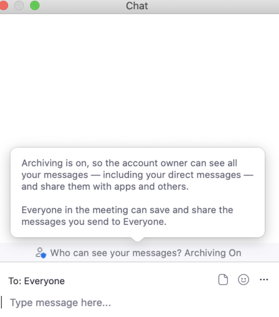 Note:
There will be no audio or video archiving disclaimer displayed when users join a meeting if the in-meeting chat is the only item marked for archiving, as they will only see the above notification when opening the chat window.
The management of an account's archiving
Using the archiving functionality, it is possible to configure the amount of archiving for an individual account or user group; the administrator would then be able to include information including terms and conditions for the organization, or more details such as what the organization plans to archive.